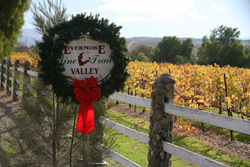 Livermore, California (PRWEB) July 08, 2014
The winemakers and growers of the historic Livermore Valley grape growing region have kicked off Sauvignon Blanc Month and it looks to be another exceptional opportunity to get summertime into your glass. Various wineries are offering discounts, free bocce and other enticements to celebrate this quintessential Livermore heritage grape, Sauvignon Blanc.
One of California's oldest wine regions, the Livermore Valley has played a pivotal role in shaping California's wine industry since the Spanish missionaries planted their first wine grapes there in the 1760s. Robert Livermore, the valley's namesake, is credited with planting the first commercial vineyards in 1840. Over the succeeding decades, Livermore was followed by icons Charles Wetmore, President of the California Viticultural Commission and Carl H. Wente, who founded one of the first wineries in Livermore in 1883.
Unbeknownst to many, the first international, (read French) Gold Medals (read Grand Prix) awarded to a California wine were from the Livermore Valley. The event was the 1889 International Paris Exposition (about 113 years before the well known judgment at Paris) when Cresta Blanca Winery, owned by Wetmore, submitted a 'dry white wine' for the competition. The wine was composed of Sauvignon Blanc, grown on cuttings, that, ironically, originated at Ch